"M. A. Rose has the rarest gift in music these days - a unique and distinctive voice. Rose's appeal is apparent from the first listen: he's got the whole history of rock & roll in his songs, but he's not imitating anyone - he's being himself."
BILL FLANAGAN
AUTHOR "A&R", MUSIC CRITIC, SENIOR VP VH1
---

Recent Goings On ...

Click here for New Gigs and New News.


On Sale Now

M. A. Rose
The self-titled album by M. A. Rose
Produced by Billy Jay Stein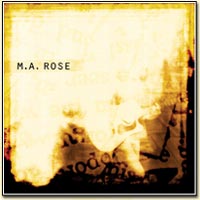 Listen Here!
She Wants More
Girl With A Mustache
Pretty People
Now You Know
Waiting For The Next Big Thing